LUCKY 8
Kitchen: Asian tapas
Address: 161 Ponsonby Road, Ponsonby
Contact: Lucky8.co.nz
Reservations: For groups of 6+ only
Drinks : Fully Licensed
From the menu: Sweet and Sour Pork; golden shrimp; mushroom fries; beef balls; cucumber salad; chicken thigh skewers; teriyaki salmon skewers; soy pāua; beef cheeks; banana leaf salmon; Hao Chilli Chicken (all $8).
I had a great meal at Mr. Hao's in August last year, but the world fell apart again, so I never got to tell you about it. This is a Dominion Rd restaurant full of personality, offering cuisine that is as flavorful and indulgent as the food.
The only downside is that, like in Gganbu last week, each dish arrives filled with the sort of amounts of food more familiar to people who have spent time in army barracks. A table of six would be the ideal setup – preferably six alligators.
Mr. Hao's new sister restaurant, Lucky 8, solves this problem immediately by serving "Asian tapas". The idea is that each dish is $8 which, although you'd suspect the state of inflation means they'll be called Lucky 13 by November, seems to do the trick to attract more clientele young and less liquid.
Slashing 50 post-teens into a well-lit Ponsonby dining room can only set the mood, and it might just be the best party restaurant on the Strip right now.
Loud, bustling and bustling, it's a lovely scene to get to once you've climbed the stairs from the street, and the fact that there were 10 diners going up and another 10 coming down really was as if you had stumbled upon something special.
Photo / Babiche Martens
The staff are awesome. From the guy at the top of those stairs patiently writing down waitlist names and numbers, to the kids on the floor happily delivering beers and cleaning plates, you wonder how they managed to find so many good people in this particular labor market.
Carrying hot plates of food to rambunctious teenagers while wearing a surgical mask isn't the job a 5-year-old dreams of, and with employers I've spoken to in other industries willing to hire 'n 'anyone with a pulse,' I'm continually grateful that so many lovely people with options continue to choose hospitality.
Back on Dominion Rd, Mr. Hao has a system where you write your commands on your menu with a marker pen, but I'm not sure how well it works. (I distinctly remember leaving my table at the end of the night with a sad "1" written next to one of the draft beers that never arrived – maybe I was wrong.)
RESTAURANT REVIEW: The delicate and irresistible French tapas of the workshop
At Lucky 8, this system has been greatly improved, with a QR code on the table that takes you to a full food and drink menu. You place your order directly in the kitchen and, upon pressing go, receive a reassuring notification that your food is about four minutes away.
It seems to work like a charm – you still get a bit of chatter and banter from the waiters all night long, but you no longer have to worry about calling "Excuse me…EXCUSE me" just to get another glass of Riesling.
The food is wonderful. Cold cucumber strips, rolled up and served with a large vinaigrette and lots of spices; Mr. Hao's famous fried chicken, tossed with big chili segments and a few other fried oddities – lotus or some other root, I think – every little piece perfectly cooked without being greasy; huge plump shrimp, coated in the crispiest shell you can imagine – like panko-plus – drizzled with something pleasantly sweet and served with Kewpie mayonnaise (this dish intentionally comes at room temperature, which scares you a bit at first, but it works).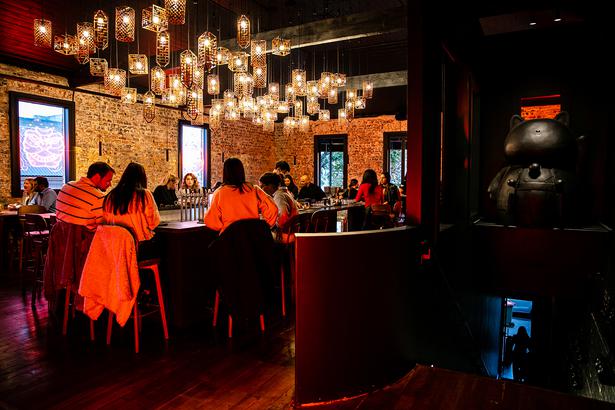 Photo / Babiche Martens
It's all easy to share, but there's a separate list of things that work best when picked up by one person. Of these, the Black Pepper Beef Cheek is so incredibly delicious and tender that you wonder how they manage it in this fast-moving business model.
I had a lovely little salmon fillet steamed in a banana leaf served with a ramekin of cilantro vinaigrette (remember, this stuff is only $8 a plate).
Back on the sharing menu, there was more of that cilantro vinaigrette with the 'mushroom fries', thin slices of meaty wild mushrooms beaten and fried until crisp – the kind of dish unique and wonderful that can make a restaurant famous.
You should expect a bit of a wait if you're planning a visit here (or find five friends and make a reservation), but it'll give you a chance to visit Clipper, just a few yards away. Wonderful cocktail bar with a lighthearted 'golden age of air travel' theme, there's room to sit; friendly and prompt staff; and drinks that arrive perfectly cold but undiluted – the rhubarb negroni in particular is recommended.
You have to guess that new restaurants like Lucky 8 had already committed to opening before the Covid black hole opened up and swallowed everyone else's plans.
Bad timing, sure, but hopefully the ball bounces now – the dozens of happy paying customers the night I visited suggest the future is looking good, as far as we can see.