I have always loved the gourmet shenanigans of the bubbly starred chef, Gino D'Acampo, well known for his slogan "fantastic". And so I had the pleasure of dining at his London restaurant, Luciano by Gino D'Acampo, to enjoy his new Italian menu in this 100-seat restaurant.
Finding it was a bit confusing as Gino D'Acampo's Luciano is attached to the ME Hotel and gives its address as The Strand, where the ME Hotel has its entrance. However, Luciano's Restaurant is actually on Aldwych opposite the Novello Theatre, a great place for theater lovers.
We enter a bold and beautiful reception area with thick black wood furniture with gold flourishes, which leads to an interior with an entirely different decor of pastel blue and wood.
Vibe
It was a heady summer evening, and the floral displays around the entrance and the friendly conversation on the terrace made for a truly summery outdoor scene. Maybe they ate one of the salads, like the Loch Duart salmon with avocado, chestnuts and crispy guanciale or the grilled broccoletti and asparagus with raisins, chickpeas and hot croutons.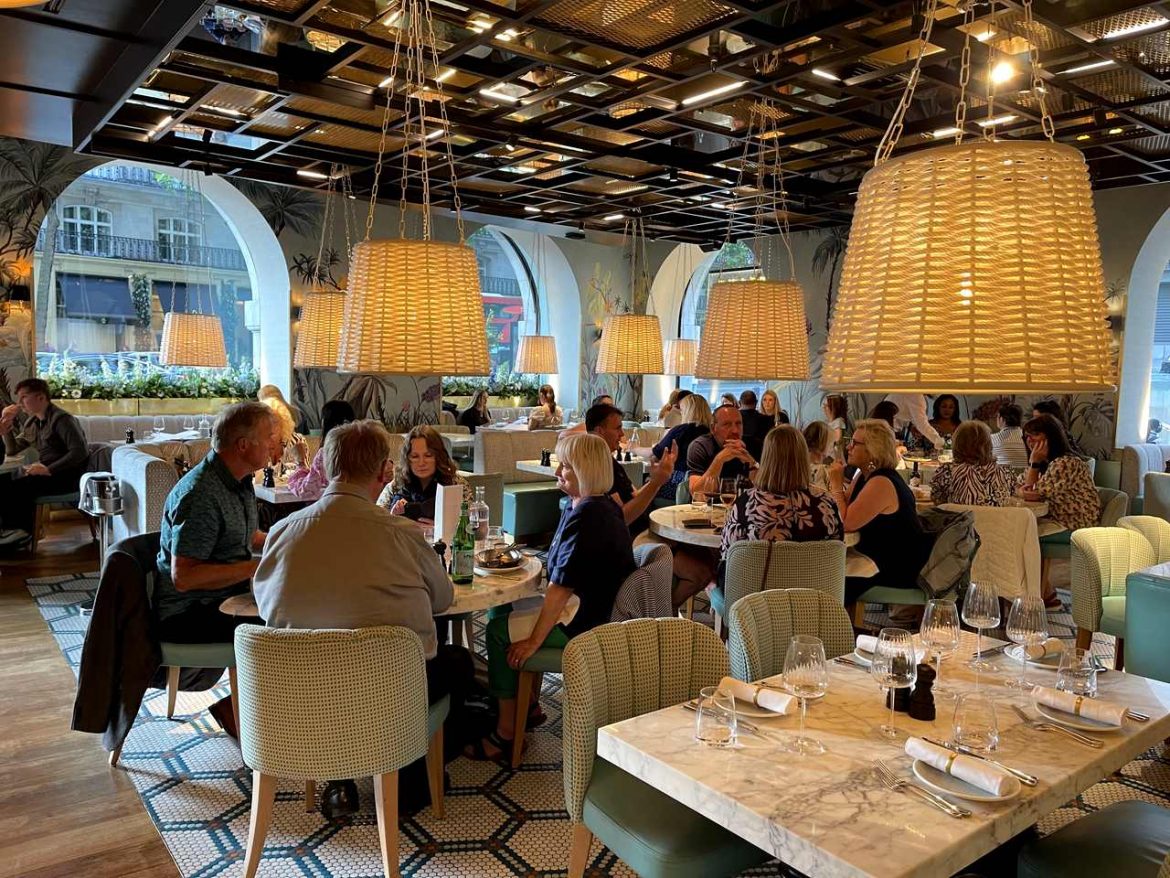 Our table was waiting inside, in a bright, airy and elegant space. The walls are covered in light blue wallpaper with an oversized exotic bird and wildflower pattern, the seats are light blue soft leather and checkered fabric, the wooden floors and a mirrored ceiling adorned with lampshades eye-catching cream cone shapes that cast a pleasant light on the marble. upper tables.
There's also a long bar with comfy stools, where, if you're a little early, you can sip a Vespa (of James Bond fame) – as we did – or a brand new signature cocktail like the Lamponi e Rosa, a mixture of Bombay Sapphire gin, Hayman's Sloe gin.
In the background, the chefs are busy preparing orders in the open kitchen. There's background music courtesy of a live DJ, and I wondered about his choice of "House Music," the genre that has that loud monotonous beat that, to me, is distracting.
Food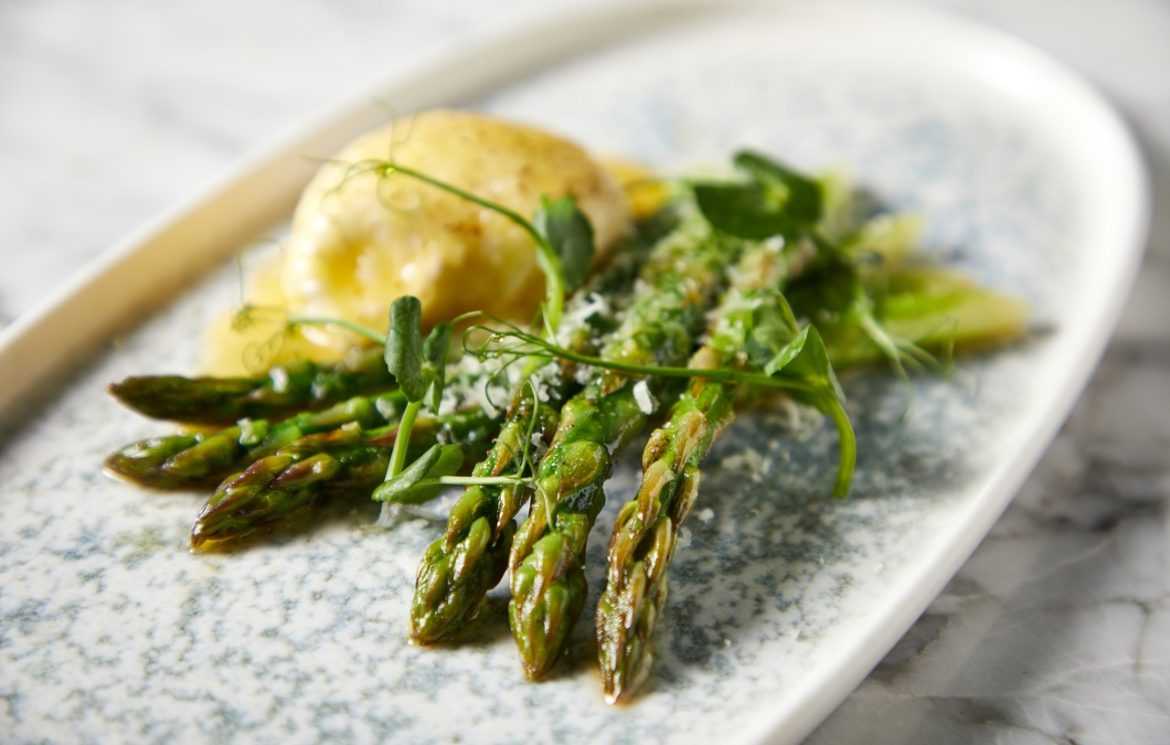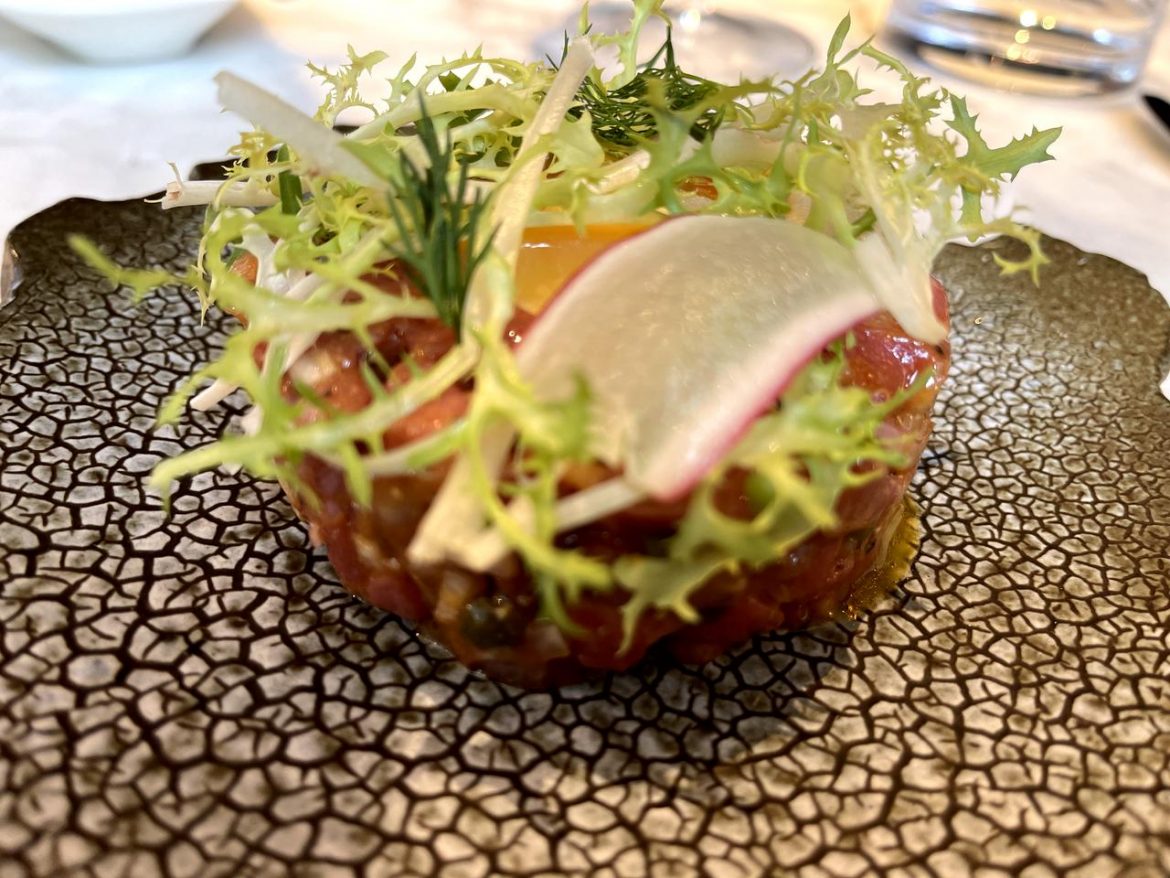 The starters were interesting; Minestrone, wild prawns with chilli. We chose the deliciously tangy beef tenderloin tartare topped with a Burford Brown egg yolk served with crispy thin flatbread and satisfying al-dente asparagus served with a Burford Brown poached egg and pecorino cheese.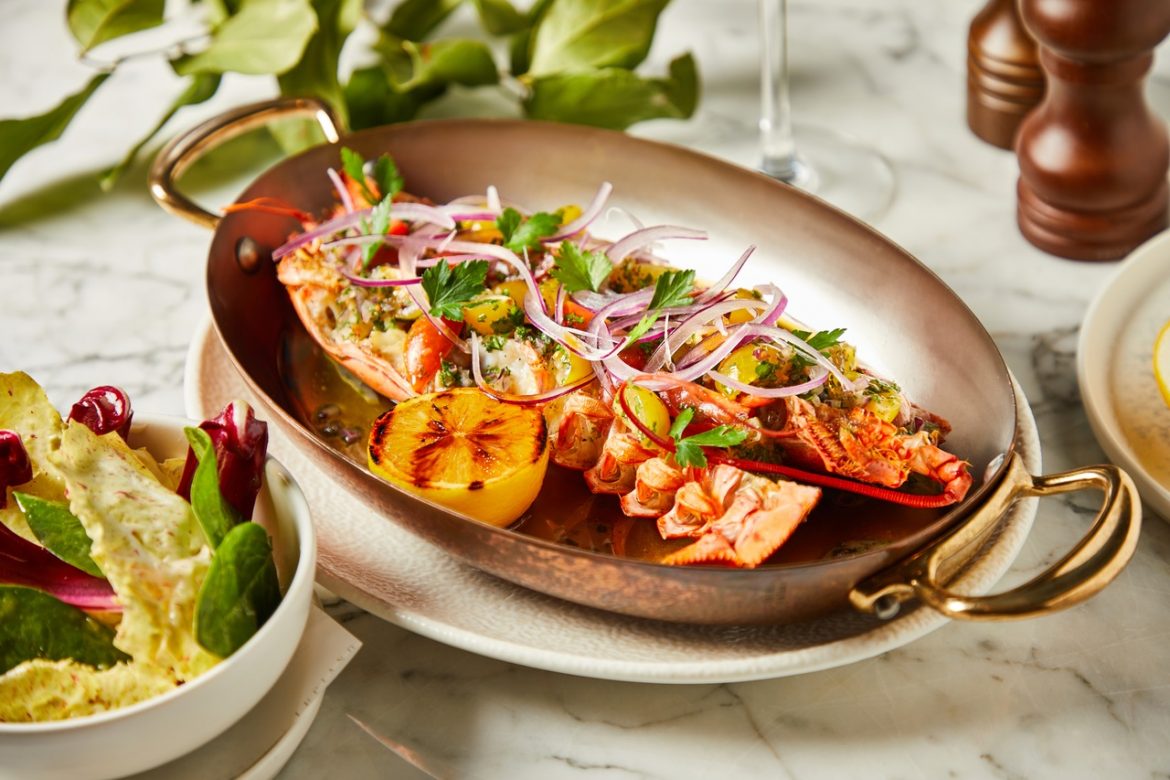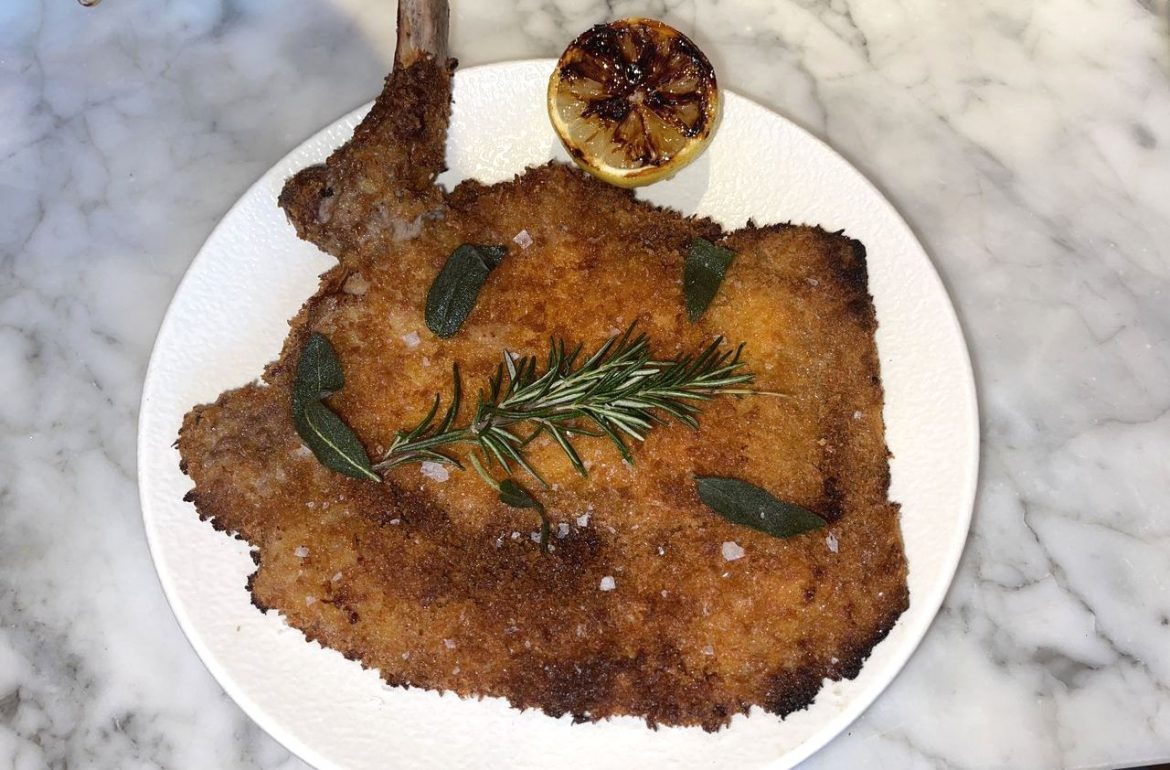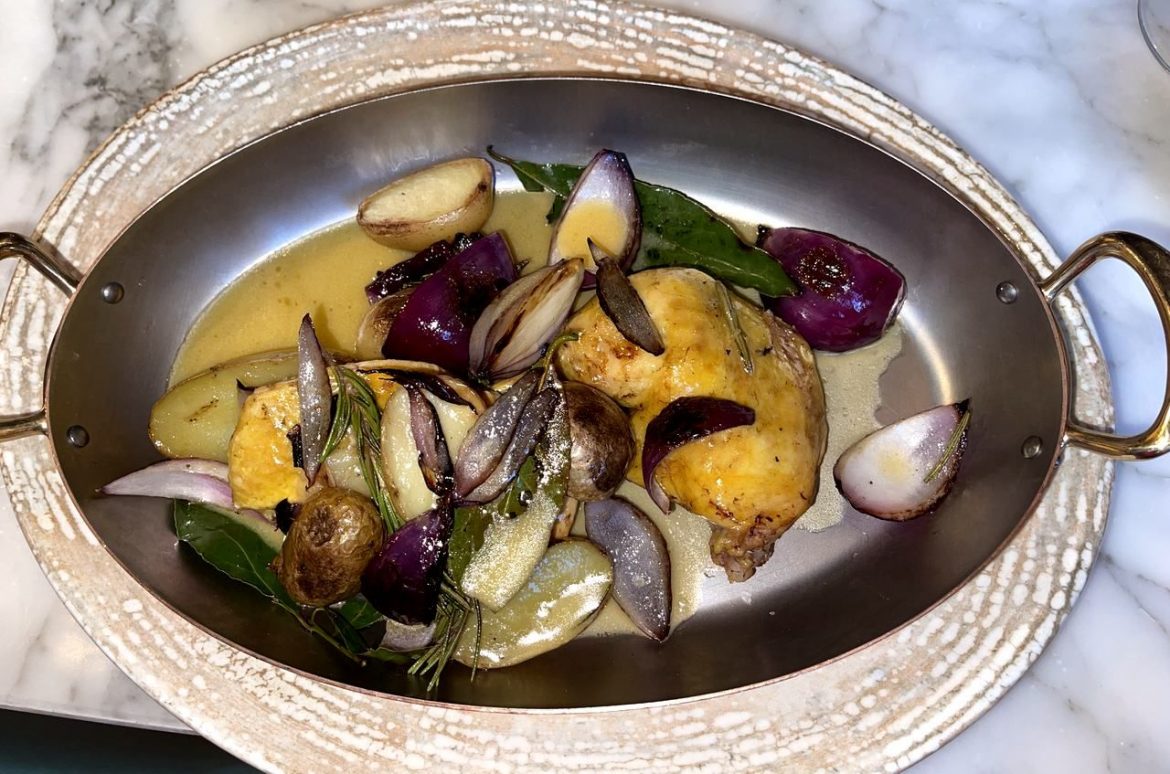 There are plenty of choices on the new menu, including spaghetti with clams, cherry tomatoes, garlic, chilli and parsley, a personal favorite from the Italian chef, and a grilled whole lobster with Catalan sauce.
Not fond of seafood, we chose the Alla Luciano chicken, Charlotte potato, lemon, rosemary and Milanese veal with crispy zucchini fritti and rosemary potatoes.
The chicken was excellent although we found the veal to be slightly overcooked but that may have been down to personal taste.
The desserts were delicious, not that we have much of an appetite now since our mains were generous. But, being traditionalists, we had to choose Tirimisu and Bomboloni – Italian donuts with raspberry and white chocolate sauce.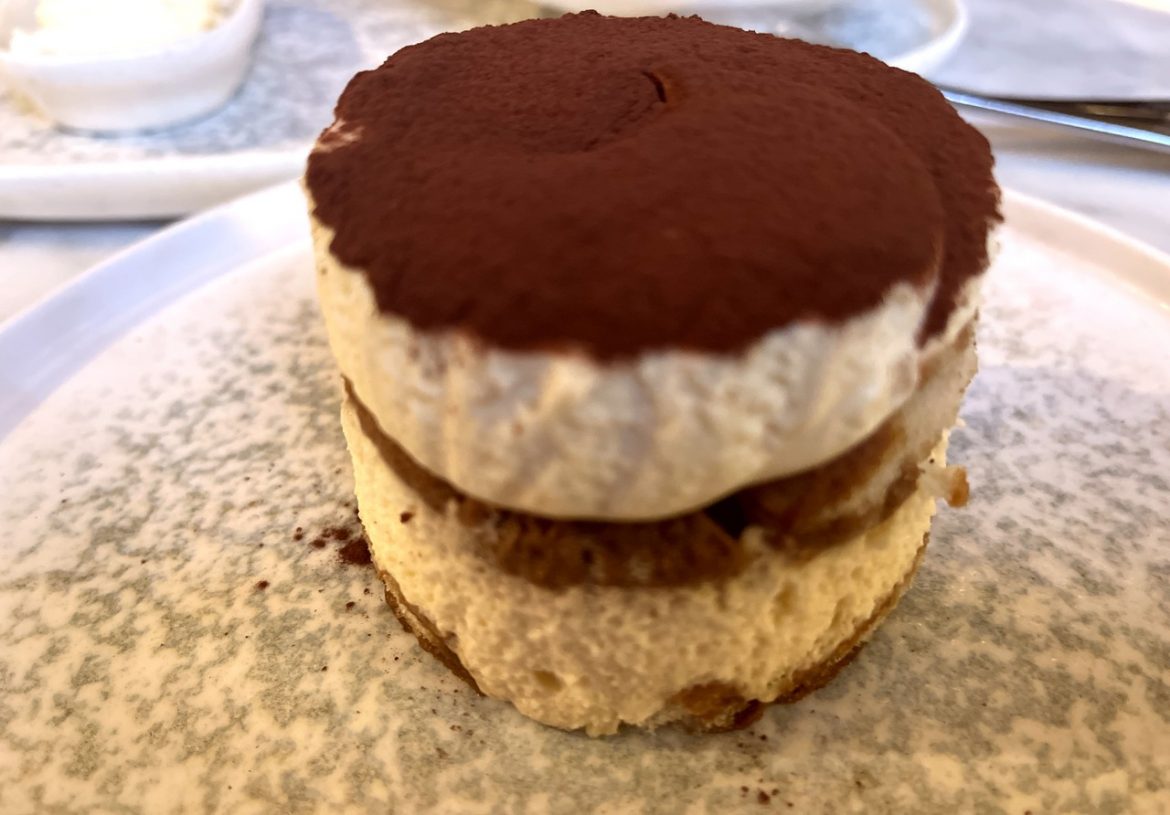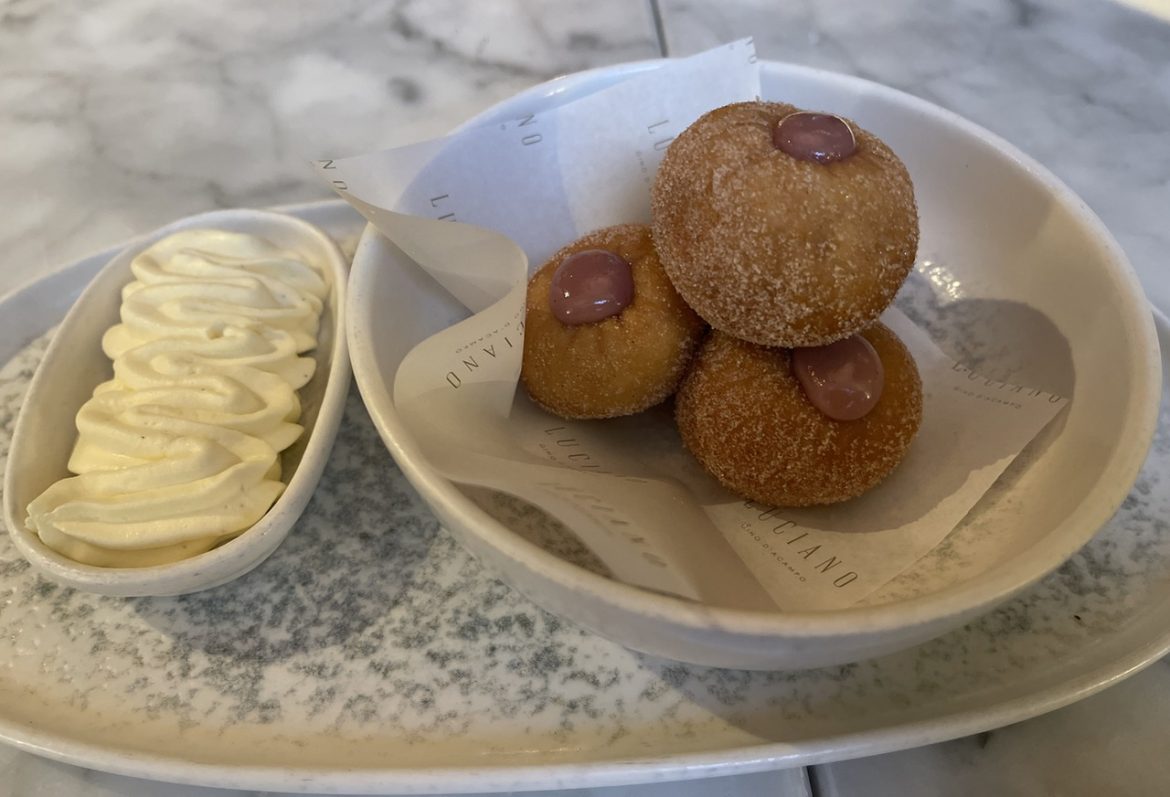 ---
VERDICT: There were a few very minor gremlins, but for the most part this elegant restaurant can be described by the word that Gino D'Acampo has made his own: "fantastico".
For more information, visit Luciano by Gino D'Acampo.